We help students reach their full potential in their academics, career and life.
There's still time to register for winter.
Explore our late-starting classes.
Get Started
Thrive in a supportive, diverse, and encouraging environment.
Learn from faculty with real-world experience.
Experience transformative outcomes, and achieve goals.
News and Events
CARES Funding Available
The money for these grants comes from the federal Higher Education Emergency Relief Fund III (CARES 3/HEERF III), which colleges use to assist students with educational costs or emergency costs related to COVID-19.
Any enrolled student is eligible to apply. This also includes international students, permanent residents, refugees, asylum seekers, Deferred Action for Childhood Arrivals (DACA) students, and high school students enrolled in college courses.
Funding can be requested to be used for tuition/fees or other purposes outlined in the scholarship application.
DEI newsletter dedicated to Native American Heritage Month
Schoolcraft College's programs prepares students for a wide range of careers.
"Learning by Doing" is the focus of the Center for Experiential Learning
It's in You to Reach Big Goals
We know your educational goals are just the start. They're the springboard for a rewarding career and an enriching life. We also know that unexpected challenges and unwanted surprises can impact your goals.
We've been there. We will do all we can to help you navigate the college experience. We have understanding professors, astute academic advisors and caring support staff all dedicated to helping you.
We're invested in you.
Your Success Plan
We'll guide you throughout your academic journey, from first class to graduation.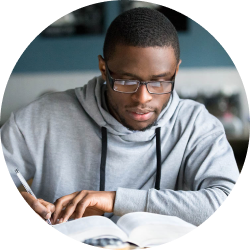 1. Apply
Apply to become a student, then follow guided steps to register for classes.
2. Do
Start your journey confidently supported by professors, advisors and more.
3. Achieve
Use your education and experiences to make your impact in the world.
Take Your Personalized Path
Whether you're looking to earn credentials to enter the workforce, transfer to a four-year school or gain new skills, Schoolcraft College can help you on your journey.

Not sure if Schoolcraft is the right choice?
Learn how Schoolcraft College can provide a transformational experience.
Get Your Great Going
It's time. Time to put your dreams into action. Time to achieve. Time to start living the life you deserve. We know that first step is the hardest but also know that once you make that step, we're with you. We'll guide you how to pay for college, how to schedule classes around your busy life and how to make the most of your experience. Start your path today.