We help students reach their full potential in their academics, career and life.
Register Now for Winter 2024 Classes
Get Started
Thrive in a supportive, diverse and encouraging environment.
Learn from faculty with real-world experience.
Experience transformative outcomes and achieve goals.
News and Events
The team will take the ice beginning in the 2024-2025 season and play in the American Collegiate Hockey Association
The second year of Otaku U is back with vendors, activities and more taking place.
Several students assisted in the creation of baskets full of Thanksgiving food to help students in need this holiday season.
It's in You to Reach Big Goals
We know your educational goals are just the start. They're the springboard for a rewarding career and an enriching life. We also know that unexpected challenges and unwanted surprises can impact your goals.
We've been there. We will do all we can to help you navigate the college experience. We have understanding professors, astute academic advisors and caring support staff all dedicated to helping you.
We're invested in you.
Your Success Plan
We'll guide you throughout your academic journey, from first class to graduation.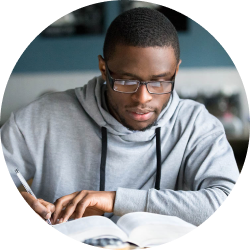 1. Apply
Apply to become a student, then follow guided steps to register for classes.
2. Do
Start your journey confidently supported by professors, advisors and more.
3. Achieve
Use your education and experiences to make your impact in the world.
Take Your Personalized Path
Whether you're looking to earn credentials to enter the workforce, transfer to a four-year school or gain new skills, Schoolcraft College can help you on your journey.
All Programs and Areas of Study A-Z

Not sure if Schoolcraft is the right choice?
Learn how Schoolcraft College can provide a transformational experience.
Get Your Great Going
It's time. Time to put your dreams into action. Time to achieve. Time to start living the life you deserve. We know that first step is the hardest but also know that once you make that step, we're with you. We'll guide you how to pay for college, how to schedule classes around your busy life and how to make the most of your experience. Start your path today.