Board of Trustees
The Board of Trustees serves as the policymaking body for Schoolcraft College. Established through the state legislature as part of the Community College Act, the Board of Trustees is made up of seven members.
Schoolcraft College Board of Trustees
Carol M. Strom, Chair
Brett M. Gierak, Vice Chair
Brian D. Broderick, Secretary
Terry Gilligan, Treasurer

Dillon E. Breen, Trustee
Angela Jaafar, Trustee
Candy R. Little, Trustee
Glenn R. Cerny, Ed.D., President
Notice of Regular Meetings of the Board of Trustees
---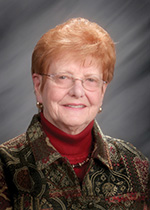 Carol Strom was first appointed to the Board in 1994 to fill a vacancy until June of 1995. She was elected in 1995 to complete a two-year unexpired term. She was elected in 1997, 2003, 2010, and 2016 to six-year terms. She currently serves as the Chair of the Board of Trustees. Ms. Strom also served as Chair from 1999 to 2003. She holds a Bachelor of Science degree in Education from the University of Michigan.
For 14 years she was a partner in a Livonia gift shop. Her community involvement has included many activities with the local and state PTA. She served one term as State Vice-President for Legislative Activity. She served for four years as a Peer Counselor at the Schoolcraft College Women's Resource Center. She served for 16 years as a member of the Livonia Board of Education and was President of the Board three times. She was President of Pet A Pet Inc., an organization which takes pets to visit hospitals, nursing homes and schools. She served on the Legal Trust Fund of the Michigan Association of School Boards.
Ms. Strom is active in the American Association of University Women, Livonia Branch. She and her husband Cal have four grown children and live in Livonia.
Brett M. Gierak was selected by the Board of Trustees to fill a vacancy in February 2021 and later elected to a six-year term in 2022. Mr. Gierak is a Clarenceville High School graduate, Schoolcraft College alumni and received an Associate of Applied Science in the Skilled Trades from Lake Superior State University. Mr. Gierak is also a graduate of the Bricklayers Allied Craftworkers Local 2 Apprenticeship Training Program.
Mr. Gierak has a passion for Schoolcraft College as well as diversity and equality in education. He is a founding Board Member of the Clarenceville Education Foundation and serves as the Chair of the Livonia Water and Sewer Board. Mr. Gierak works for the Bricklayers Allied Craftworkers Local 2 as the Secretary Treasurer for the State of Michigan. He serves as Trustee on the Health and Welfare Trust Fund, the Cement Masons Pension Fund, the Joint Apprenticeship Training Committee, and Chair of the Metropolitan Bricklayers Pension Fund.
Mr. Gierak and his wife are lifelong residents of Livonia. His wife Kristyn teaches for Livonia Public Schools and their children also attend Livonia Public Schools.
Brian Broderick is serving his fifth term on the board, having been elected to six-year terms in June 1995, 2001, 2007, 2015, and 2020. Mr. Broderick currently serves as the Secretary of the Board of Trustees and was Chairman from 2012-2020, Vice Chair from 2008-2011 and Secretary from 1997-2007.
Mr. Broderick earned a Master's Degree in Public Administration from Wayne State University in 1998. He is a 1991 graduate of the University of Detroit School of Law and a member of the State Bar of Michigan. Mr. Broderick received a Bachelor of Arts degree from the University of Notre Dame in 1988.
Mr. Broderick currently serves as the Executive Director of the Michigan Association of Non-public Schools. In that role he serves as the state representative to the Council of American Private Education (CAPE). He also sits on the Boards of Michigan Youth in Government, Michigan Virtual University and the Education Alliance of Michigan. He recently concluded seven years of service as a Board member of the Felician Sisters Childcare Centers.
He is involved in a variety of community activities including serving as a lector at Our Lady of Good Counsel in Plymouth. Mr. Broderick is a member of the Incorporated Society of Irish-American Lawyers, and is a Past President and current Board member of the Notre Dame Club of Detroit.
He and his wife, Donna, and their children, Jim and Katherine, reside in Plymouth.
Terry Gilligan was elected to complete a two-year term beginning January 2013. He was elected to his second six-year term that runs from January 2021 until December 2026. He currently serves as Treasurer of the Board of Trustees. Mr. Gilligan attended Henry Ford Community College and is a graduate of Pipefitters Local 636 Apprenticeship School. Terry is a 33-year member of the Pipefitters Local and in the last 12 years has held the elected offices of President, Business Agent, Financial Secretary/Treasurer and Assistant Business Manager and he is now the Business Manager. While holding these elected positions he has also served as a Trustee on the Joint Defined Benefit and Defined Contribution Pension funds, Joint Health Insurance Trust Fund, Joint Apprenticeship Training Committee, as well as chairing the Political Action Committee for Local 636. The committee is active in politics at the local, state and national level.
Terry is a former Assistant and Head Coach for the Livonia Junior Athletic Baseball League. Terry and his wife Barbara have lived in Livonia for the past 28 years along with their two children, Joe and Allyson.
Dillon Breen was elected to the Board of Trustees in November 2018 to a six-year term beginning in January 2019. Dillon earned his Bachelor of Science degree in Geology, with a minor in Geography from Calvin College in Grand Rapids in 2017, and an Associate in Arts from Schoolcraft College in 2014. He holds an Environmental Analyst, and a Land Resources Analyst Certificate from the Au Sable Institute of Environmental Studies in Mancelona.
Dillon is currently assigned to the Audit Committee, as well as the Strategic Planning Committee, and is Schoolcraft College's General Assembly Delegate to the Southeast Michigan Council of Governments (SEMCOG). He was elected to SEMCOG's Executive Committee, representing the region's community colleges for a term starting in April 2021.
Mr. Breen served on the Livonia Human Relations Commission from 2012-2018, including two-years as Chairperson from 2014-2016, the Livonia Local Officers Compensation Commission from 2015-2018, and as a Board Member of the Livonia Brownfield Redevelopment Authority since 2019. He has worked for the Michigan State Senate as the District Director for Majority Floor Leader Mike Kowall, and at a consulting firm based in Novi. Dillon was a 2019 Fellow in the Michigan Political Leadership Program (MPLP) at Michigan State University.
Dillon has been active in local politics for over a decade, and has served as county, district, and local club chairman for his party. He is a lifelong resident of Livonia, Michigan, and attended Livonia Public Schools.
Angela Jaafar was elected to the Schoolcraft College Board of Trustees in 2022. In most recent years she was elected to the Northville Board of Education where she served as Vice President, Chair of the Policy and HR Committee, and a liaison on the finance and fiscal committee managing the district operating and capital budgets. As a trustee, Angela led the Legislative Action Network for the district where she worked with local and federal legislators on advocacy for funding in public education, resulting in the highest, most significant per pupil increase in recent history. Angela served as a commissioner for Parks and Recreation, Advisor for the Senior Advisory Board (Northville), and serves as a member of the Detroit Zoological Authority for Wayne County. Angela has been active in the Wayne County Youth and Senior Education Fund which is organized specifically for educational purposes.
Angela's professional background spans over 25 years. She launched her professional career through a school assignment for a servicing Ford Motor Company. While working, she attended college and continued to grow her involvement and career within the firm. Angela managed and developed processes at a global level for a program of 85 events and budgets exceeding 60M. In this role, she established a program for training and development, new technology, experiential marketing, and complex logistics. Her career provided her with a broad business perspective and a plethora of experience on a large scale of budgets and programming.
In 2013, Angela's professional experience and love for community came together when she launched her real-estate business. As a business owner, she quickly earned the respect and trust of families and clients by helping them achieve the American Dream of home ownership. Angela has been recognized and awarded for 9 consecutive years for her level of sales and service in the Real Estate industry.
Angela is deeply rooted in family and community. She lives by the commitment of hard work and giving back in all aspects of her life. Angela is married to Mike, and they have 5 children. Mike is lifelong law enforcement officer and executive, most recently promoted as Undersheriff of Wayne County. Angela's community service is important as she sets an example for her own children to understand the importance of giving back. She has invested countless hours and time to ensure all families are supported with the highest level of opportunity, resources, and education as they prepare for a world of pathways and possibilities.
Candy R. Little was selected to serve on the Board of Trustees in April 2023. Ms. Little graduated from Wayne State University in 1996 with a Bachelor's in Chemistry and, since then, has worked in the pharmaceutical industry. Since earning her degree, she has worked for several pharmaceutical companies and clinical research organizations holding the titles of Clinical Research Associate, Lead Clinical Research Associate, Associate Clinical Research Specialist, and Institution Lead Clinical Research Associate. Currently, Ms. Little is working for Merck as both a Senior Clinical Research Specialist and Institution Lead Clinical Research Associate.
Ms. Little has been active as a volunteer in the Livonia community for 16 years. She has served on the PTA community for Coolidge Elementary as Secretary when her daughter was a student. Additionally, throughout her daughter's education in the Livonia Public School District she remained an active volunteer on various committees until her daughter graduated from the Math, Science, and Computers (MSC) program at Churchill High School in 2022.
In efforts to continue serving her community, Ms. Little has been on the Livonia Water and Sewer Board since December 2020.
Ms. Little and her daughter have been residents of Livonia for 16 years.
---
To contact our board members, call 734-462-4416