Malcolm X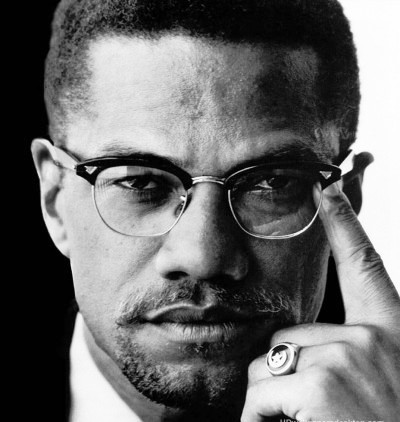 Malcolm X, or known as El-Hajj Malik El-Shabazz in the Muslim world, was one of the key figures of the Civil Rights Movement, and his legacy continues today. Born Malcolm Little on May 19, 1925, in Omaha, Nebraska, his family relocated to Lansing, Michigan. When Malcolm was 6 years old, his father Earl Little, a Baptist Minister and teacher of Marcus Garvey's Universal Negro Improvement Association (UNIA), was murdered in Lansing. Although, local authorities made claims it was a suicide, the back of Little's head had been smashed with a hammer before he was tied to streetcar tracks and run over.
The family could not receive a payout from Earl Little's life insurance, as it wouldn't pay over cases of suicide. Malcolm's mother Louise Little struggled to keep the family together financially. Overcome with stress and grief, she was committed to an insane asylum and the 10 children were separated between foster homes and family members. While in foster care, Malcolm excelled academically, but became disinterested in school after a teacher told him his desires to become a lawyer were unrealistic because he was Black. This led Malcolm into years of juvenile delinquency.
During a period of incarceration, Malcolm become a devoted follower of the Nation of Islam (NOI). In "The Autobiography of Malcolm X" as told to author Alex Haley, Malcolm discussed the meaning of the 'X' as taken by NOI members to represent the mathematical symbol signifying the unknown. This because Africans born in America through enslavement were stripped of culture, names and heritage and given the names of enslavers of their ancestors. After his release from prison in 1952, Malcolm X began his work in Detroit, expanding NOI Temple #1, and then across the county. He became a controversial figure within the Civil Rights Movement as he opposed the "Non-Violent" approach of other leaders as a sole strategy, instead promoting self-defense when appropriate.
In 1963 a rift developed between Malcolm X and senior leaders of the Nation of Islam for his activism in the Civil Rights Movement and work toward international human rights. In his Islamic pilgrimage to Mecca in 1964, Malcolm X would find the philosophy of white people being devils, as taught in the Nation Of Islam, to be a contradiction to the traditional teachings of Islam. During the pilgrimage, Malcolm met white Muslims who were opposed to the systemic oppression of Blacks in America.
This experience in Mecca guided his understanding to work with whites and other Civil Rights leaders, such as Dr. Martin Luther King, Jr. On February 21, 1965, Malcolm X was killed during his weekly address to the Organization of Afro-American Unity, a human rights organization he established. This was just seven days after he, his wife Betty Shabazz, pregnant with twins, and their four daughters were nearly killed in a fire bombing. In recent years new information, such as the Netflix series Who Killed Malcolm X?, has revealed the role of the FBI and local police units in his death.
The location of Malcolm's murder has since been transformed into The Shabazz Center, a cultural and educational institution that harnesses the legacies of Malcolm X and Dr. Betty Shabazz to incubate social, racial, and global justice movements. You may learn more at https://theshabazzcenter.org/
See more Black History content at schoolcraft.edu/BHM
---